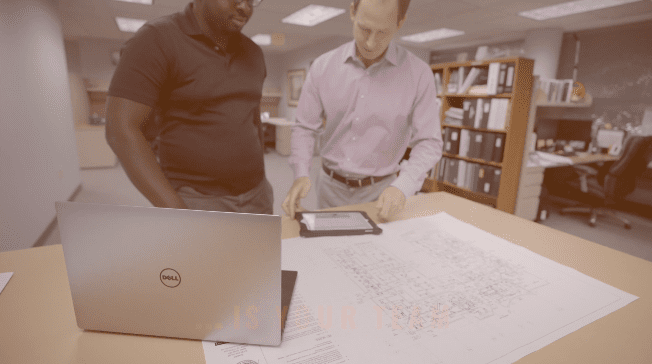 Why Managed IT
Many business choose to use an "IT Person" ad-hoc to keep costs down. That works for some but it's a break-fix reactive model where catastrophes are more likely to occur and you're often waiting to get help.
In many cases, Managed IT is a better value. If you are short on time or expertise to manage your IT and security, Managed IT could give your business the boost it needs. Managed IT provides a one stop shop for the products, people and services for your business to grow.
Benefits of Managed IT
Monitoring – Early warning of problems and risk of downtime decreases significantly.
Redundancy – We have redundancies in hardware, skills and resources.
Expertise – You have a team of experts at your service with a breadth of knowledge.
Accountability – Boost IT has been in business a long time and our reputation is everything.
Responsiveness – We're proactive and you're a priority, always.
Scalability – We can scale quickly as you grow.
Guidance – We have the time to help you evaluate new solutions and choose the best one.
Controls – Security and cost controls are crucial for your business to succeed.
Pricing – Predictable monthly pricing.
If you're growing and you want to control costs, increase efficiency and productivity, Managed IT pays for itself, and when you use Boost IT, it's often a 3X-10X ROI.
Boost IT customizes our managed IT support packages to fit your business needs and budget.
Our current clients are using our Remote Monitoring and Management, Mobile Device Management, Help Desk, Backup & Disaster Recovery, Vendor Management, Security, & Reporting services and experiencing the benefits of higher productivity, higher revenue, easy management and greater focus.
RMM is the foundation of a reliable, predictable network and is a critical step toward avoiding surprises, having the tools to give you quick answers to your questions, and expanding reporting options.
Monitoring
We monitor your network around the clock down to the smallest detail:
clean up computers and servers
install whitelisted, pre-screened software updates
monitor storage and servers and network devices
alerts and /or proactive repair
and more
Management
The Management portion of RMM:
keeps systems and software secure through updates
performs maintenance on all your devices to keep them running at peak performance
is backed by our 650+ engineers at our world-class Network Operations Center (NOC)
provides unmatched technical support and expertise, 24x7x365
is keeping your network running at peak performance and availability even while you sleep
Our network operations center staff:
has advanced training and certifications in Citrix, VMWare, Cisco, and Microsoft MCSE and MCSA softwares
has advanced training in server and network technologies
carefully monitor every netflow, hop, server and endpoint attached to your network
is constantly on the lookout for any anomalies in infrastructure health, security, and capacity
work proactively and tirelessly to provide you with optimal network performance
We can monitor your internet, network, PCs, Macs, physical servers and virtual servers around the clock, giving us the ability to prevent many small issues from becoming larger and more costly ones. The RMM portion of Managed IT support increases uptime significantly.
Managed Security

Network security is an art as well as a science. It's not as black and white as you might think, especially considering that threats to your business are always changing.
We should be:
monitoring your incoming and internal wired and wi-fi network traffic 24×7
preventing breaches
making proactive adjustments
optimizing bandwidth
maximizing wi-fi throughput
Our around the clock firewall monitoring and reaction service includes:
notifications of outside attacks or internal security policy breaches and response to both
secure remote access for your employees
securely connecting your main office to branch offices
preventing users from using up your bandwidth by streaming music and video during business hours
blocking access to web sites that aren't in your acceptable use policy.
We combine our security expertise and your organization's security policies to execute a strong security plan.
When Sarah has a computer issue, not only does she stop working, she usually recruits John to help her, so now you have two people being unproductive.
We have 120 US-based, highly trained technicians waiting to help Sarah, John and the rest of your staff around the clock at our Help Desk. A highly trained IT support technician will answer your call or chat request in less than 60 seconds on average. The same person that answers will immediately start helping you (no call transfers), remotely access your system if needed, and we have an average PC/Mac issue resolution time of 17 minutes. We can respond to e-mail requests within 6 hours if you prefer. Let us handle your support needs so you can focus instead of manage issues. Our Help Desk component of Managed IT gives you unlimited access to support and keeps your employees working and from interrupting another team member to solve a problem.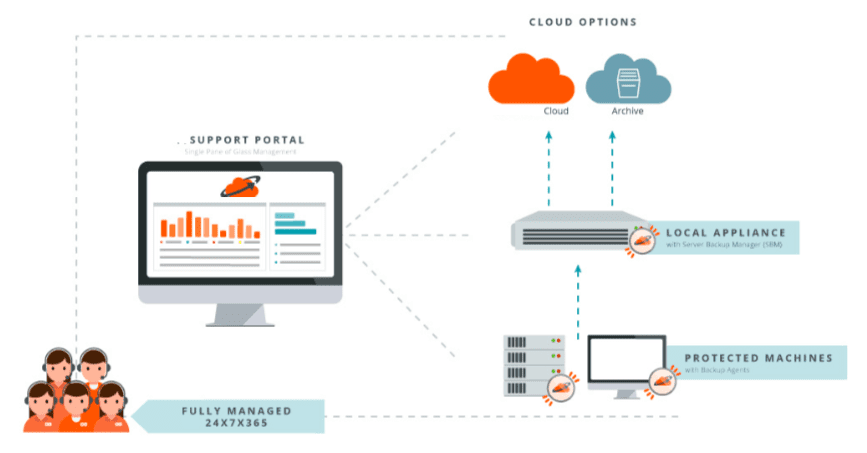 How long does it take you to recover an entire server in the event of a disaster? Click on the image to the left to see the overview. We back up a bootable copy of your entire server and PCs to a backup appliance we install at your site. It can take snapshots of your systems as often as every 15 minutes. And if you want offsite backup copies stored in the cloud then we can do that too. In the event one of your systems fail, we can push a button remotely and almost instantly your server or PC is back up and running. We install the appliance, monitor the backups around the clock, and manage the hardware and updates to your "set it and forget it" local + cloud backup and disaster recovery system, and yes it's HIPAA and SOX compliant. The BDR component of Managed IT means you sleep better at night since your data is protected automatically.
Watch this quick video to learn about the benefits of Cloud BDR.
Mobile Device Management
Our comprehensive mobile device management services reduce costs associated with supporting an array of mobile devices. We have the ability to separate personal and company data while maintaining full control of polices and device configurations. We work with you to define your company's mobile strategy and ensure the policies we create increase both productivity and employee satisfaction.
Deployment & Configuration
Set device restrictions on features, applications and content ratings
Detect and restrict jail broken and rooted devices
Deploy real-time compliance rules
Geo-fencing rules enforce location-based compliance
Management Services
Managed over-the-air configuration of email, calendar, contacts Wi-Fi and VPN profiles
Distribute and manage company approved applications
Selectively wipe corporate data leaving personal data intact
Remotely locate, lock and wipe lost or stolen devices
Decommission devices by removing company data
Reporting
Detailed hardware and software inventory rep
Configuration and vulnerability reports
Mobile expense management for real-time data usage
Vendor Management
You know the scenario. You've called for support and the technician starts pointing the finger at someone else as the problem. That's not how Boost IT handles issues or requests. Since we speak your language and their language, we work with your vendors directly to get your issues resolved. We work with your Internet Provider, Printer Vendors, and Software Vendors directly to make sure every software upgrade, hardware change, or issue gets resolved as quickly as possible. Do you want your internal team, without the skills, scrambling to figure it out or do you want a Managed IT company that has the troubleshooting tools and skills to take of it for you?
Types of vendors we work with on your behalf:
Phone or VOIP
Internet Service Providers (ISP)
Printer or Plotter
Software
Hardware
Cloud
Cabling
General Contractors
Reporting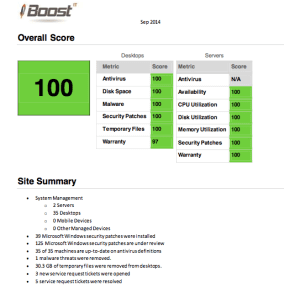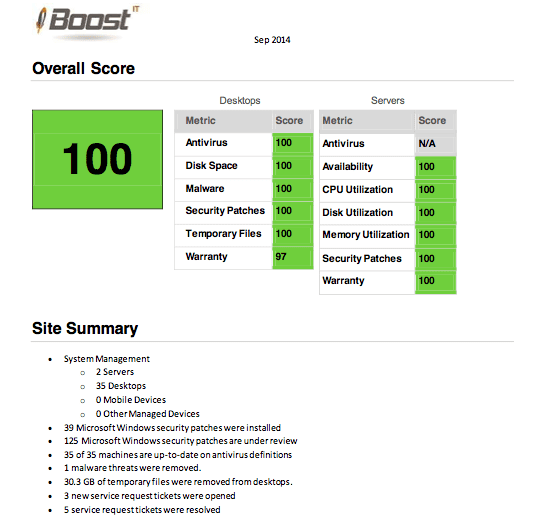 Click on the image to see a summary page from a sample monthly Executive Summary report. How can you know what direction your business is headed if you don't have the information you need? Boost IT provides monthly reports to all of our clients. These reports can include information on the number of service desk tickets open and closed per month, the number of intrusion attempts made and blocked on your networks, lists of web sites that your staff is going to most, the security patches that should or shouldn't have been loaded, hardware warranty information, temp files cleaned, anti-virus and anti-malware status information, free space on your computers and server hard drives and many more options. We can customize the level of detail in reports to meet your needs. Managed IT Support means better reporting, leading to better insight to make better business decisions.
Other Services We Provide to Our Clients:
Hardware and Software Procurement
Desktop & Server Deployments
Desktop Upgrades
Remote User, Mobile Workforce, and Office IT Support
Chat, Phone, E-mail, Remote Control, and Onsite IT Support
Server Migrations (Virtual or Physical)
Hosted Virtual Servers & Networks
Virtual Desktop Infrastructure (VDI)
Database Management
ISP Conversions
Office 365 Deployments

Next steps:
or
or