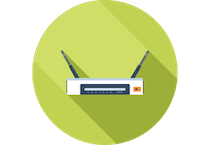 A UTM managed firewall is THE most important part of a comprehensive managed security plan. If you don't have one, odds are that you're having network issues and don't know why.
Statistics:
The annual cost of global cybercrime damages are estimated to cost $6 trillion by 2021.

51 percent of business owners are unfamiliar with unified threat management (UTM) and do not fully understand its security benefits.
What You Need to Know:
Data Security Now Requires Consistent, Vigilant Monitoring and Maintenance
With all of the threats to your company's data and factoring in the impact of exploited network or system vulnerabilities, you simply don't have the time to do what it takes to keep your business secure.
IT security must continually be revisited, and a managed firewall is the way to automate that process. How much time would you say you've spent working on cybersecurity issues in the last six months? Are you staying up-to-date with cybersecurity threats?
If you don't have someone constantly and actively monitoring your network, you may not detect any issues until it's too late. What if you didn't know you were hit with ransomware until after the ransom payment window closed, and you couldn't access any of your files?
The average time to detect malware or criminal attack is 170 days (Heimdal Security).
What does UTM mean and why is it important?
A UTM (unified threat management) managed firewall involves an approach to information security whereby a single piece of hardware provides multiple security functions. This contrasts with the traditional firewall method of having a solution for each security-related function. Using the traditional method, it's easy to overlook important security functions.
UTM simplifies information-security management by providing a single management and reporting point rather than managing multiple complex products.
Examples of time-consuming, but necessary firewall management tasks you can offload include:
Reviewing firewall rules
Updating your firewall
Patching the latest vulnerabilities discovered
Maintaining required controls and standard certifications, such as: ISO, SSAE16, HIPAA, SOX, etc.
Filtering web content
Updating security licenses
What's included in our HeatShield security service:
Our HeatShield Secure firewall solution includes the hardware, annual security license fees, security licenses updates, hardware updates, log monitoring, no cost replacement, and some included firewall rule changes per month.
Need a managed UTM firewall now?
Fill out a 2 minute IT Self-Assessment online
or
Contact Us to set up an Introductory Call to talk about your security needs