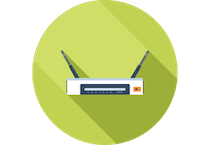 We have always said that security is as much art as science.
Firewall monitoring and adjustments should be an ongoing, daily process, and some included firewall rule changes should be an integral part of managing your firewall. We install and configure an enterprise-level firewall that we actively manage.
This includes:
monitoring of traffic,
configuring and actively modifying content filter settings to adhere to company internet usage policies,
including Intrusion Prevention and not just Intrusion Detection,
centralized Gateway Anti-Virus filtering that offloads processor intensive filtering from computers,
application filtering to block specific applications from being installed by employees,
and one of our favorite features is a Geo-IP filter, which allows us to exclude access to high-risk countries.
A HeatShield Managed Firewall is the foundation of network security.
Get yours now.
Contact us to get your HeatShield Managed Firewall.