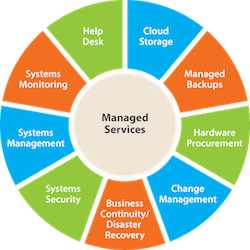 The Managed Services Story
Like every Tuesday morning, Linda the office manager came in 1/2 hour early. Tuesday's are staff meeting days and the report has to be printed for the meeting. And right after the staff meeting Linda has a meeting with the HR vendor to talk about an issue that might potentially cost the company a few thousand dollars in payroll taxes. This could be significant for the small 10 person company. But when Linda tried to login to their primary business application to print the reports, she couldn't. The job dispatcher couldn't login either. Since Linda was the primary IT resource she had to reschedule both meetings until later in the week until she could resolve the problem. It was after lunch before her telephone calls with the application support company revealed that an automatic software upgrade on her workstation and the dispatcher's workstation was active when it should have been turned off. The problem was resolved about 1:15 PM but two of the most important people in the office were put in non-productive mode for half the workday. And the rest lost about 10% of productivity in the turmoil. That's like 20% of your workforce calling in sick.
Could Linda need more effective Managed Services for her information technology?
Benefits
Managed services allow you to outsource and automate day-to-day management functions and responsibilities of your IT operations to a service provider, known as an IT Managed Services Provider. The managed services provider (MSP) assumes ongoing responsibility for monitoring, managing, and issue resolution for select IT systems and functions on your behalf. These services are often game changers for small businesses who need expertise or access to technology that is not budget friendly.
Services that managed services providers offer is:
managed security service,
software update management,
24×7 Help Desk support for your employees,
Microsoft 365 e-mail management
software and hardware procurement,
cloud or on-premise server management,
device management for desktops, tablets, smartphones, servers, storage systems, networks and applications,
monthly IT reporting (executive summary or detailed)
regular vCIO business reviews/strategy sessions
Outsourcing routine infrastructure management to an experienced managed services provider lets you concentrate on running your business, with fewer interruptions due to IT issues.
Pricing
Managed services providers usually price their services on a subscription basis. Depending on the services they provide, pricing is usually based on the number of devices, with different packages priced at different levels. Some provide onsite support when required. Most MSPs bill an upfront setup or transition fee and an ongoing flat or near-fixed monthly fee, which benefits clients by providing them with predictable IT support costs.
Transitioning
Basic services often start with a monitoring service, which notifies you of problems, which you resolve on your own. At the upper end of the spectrum, service providers offer fully managed services that cover everything from alerts through problem resolution. They also may offer an all-inclusive package that includes all repair and changes services as well.
Typically they perform an initial assessment of your current IT environment and management requirements to help you decide what services and service levels you need. Service levels define in detail how each situation will be handled and in what time frame.
Why Managed Services?
Just like larger companies, small businesses need technology to operate efficiently and to compete effectively. But as reliance on IT and the desire to automate tasks grows, the resources to support an increasingly complex IT environment may not be available or affordable. In many small businesses, IT resources are scarce, and can be quickly overwhelmed with day-to-day responsibilities of keeping the IT infrastructure up and running.
Profitability
If you fall behind in keeping up with backups, patches, upgrades and security, the odds increase that you'll encounter an IT outage or another problem down the road that will negatively impact your business. For instance, if your primary line of business application, Internet service, financial application or network goes down unexpectedly, you face substantial productivity and revenue losses as a result. Think of it like maintaining your car. You maintain your car because you know at some point that if you don't then you're going to be stranded. Since 2000, our clients have seen noticeable increases in revenue, workflow efficiency, and network speed when they outsource the IT services for which they don't have expertise.
Flexilbity
Unlike traditional outsourcing situations, where you surrender complete control of your IT assets, you decide what you want the service provider to take care of, and what you want to handle. You have as much or as little visibility into the process and management of your systems as you see fit. Another great benefit is that MSPs can often move much more quickly to fill a need when it may be too costly or time consuming to acquire new or reassign existing human or hardware resources. In addition,the MSP subscription model gives you more expense predictability than a consultant-type time and materials billing model.
Productivity
MSPs act as an extension of your IT department or can take on all of your IT management, taking care of routine IT infrastructure monitoring and management around the clock— freeing up your employees or IT staff to focus on higher-value projects. By proactively monitoring and maintaining your systems, an MSP can help you avoid many technology problems in the first place. Should an issue occur, an experienced MSP is able to troubleshoot and resolve it more efficiently since they have access to a larger pool of knowledge and expertise. Another benefit is that the MSP can also serve as an objective guide in long-term strategic planning and when considering new technologies. Our existing clients can attest that careful selection of vendors, services and technologies will make or break how your business functions day to day.
Managed Services Considerations
MSPs offer a wide range of services for small businesses.
Many focus on managing specific areas and functions, such as storage and related management services, or desktop management and help desk support services for your office or mobile workforce. Some provide management services for server hardware, mobile device security and control, backup and disaster recovery plans, and have the expertise to coordinate and aid in the management of line of business application selection and installations. Others may even provide packages that include licenses for Exchange e-mail, anti-virus and anti-malware and backup software. Some provide onsite services as required and can help with hardware, software, or cloud services selection and procurement. 
If you are looking for more comprehensive services, including security and firewall alerts, monitoring and management services for a wide range of client, network, servers and applications make sure to assess the MSPs capabilities to support an organization with those requirements. The service should offer small businesses a choice of service levels, priced on a per-device, per-month basis.
With so many different types of MSPs and offerings, the MSP label can be a confusing one. So, when considering managed services, think first about your requirements. How satisfied you are with the level and quality of support that you have today? Where are the gaps, pain points and inefficiencies in IT infrastructure management? How do downtime, outages and other problems impact your business? What could you be doing do improve your business if you could outsource IT management?
Keeping these requirements in mind, evaluate MSPs that match your IT, business and budget requirements and provide a flexible, proactive approach that can scale and adapt with you as your needs evolve. The best MSPs contract for the must have services in bulk, organize them into packages based on common needs, manage those services with their own staff, offer those services much cheaper than buying them individually, and at a price point almost any small business can afford.
The Results
On this particular Tuesday, Linda arrives early to find that neither she or her job dispatcher can login to the primary business application. Linda calls her MSP help desk where her call is answered in a few rings. Within 10 minutes, she is talking with a support person who is able to check the monitored activity logs and tell her that the only thing that has changed overnight is an automatic software update on her workstation and the job dispatcher's station. With her permission, the support rep accesses the workstations remotely, backs out the update, and Linda and the dispatcher can login and go about their business within 30 minutes. Linda is able to keep to her schedule for the day. Crisis averted.
Doesn't that sound better?
Contact us to find out how we can improve your life and your business.