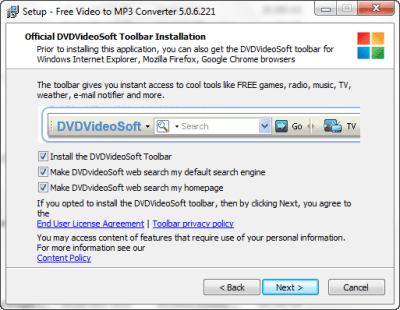 How to recognize malware BEFORE the infection
Boost IT's protection software automatically cleans over 95% of malware, viruses, and spam. After we let our clients know about the blocked infection they inevitably ask how they can reduce the chances of a real infection. There are 1,000s of new malware and viruses released per day, and the creators are getting better at tricking you. Here's how to beat the odds…
Top 4 Ways You Get Infected
You installed something you really shouldn't have, from an untrustworthy source. Often these include screensavers, toolbars, or torrents that you didn't scan for with anti-virus AND anti-malware software.
You didn't pay attention when installing a "reputable" application that bundles "optional" add-on software.
You've already gotten infected, and the malware installs more malware.
You aren't using effective and updated Anti-Virus AND Anti-Malware software (yes, you need both)
How To Recognize Malware
Deceptive Software – See the check boxes below?  Many software programs sneak those in so that malware can be automatically installed with other legitimate software. Don't just click through.  Read the details when installing software.
"Scareware" – You're on a web site and a pop-up comes up telling you that your computer is infected.  This may not be a notice by your anti-virus program but is just an animated picture in the web site you visited.  If you click on the web site then the malware is installed.

Disguised Adware – Look at the headings or subheadings to see if it might be adware.  Sometimes you can just hover over the icon, and not click, then look for the web address that the link would take you to.  To do this, while hovering over a link, look for the address in the bottom left corner in your web browser.
Free Games, Media Players, Screen Savers (Freeware) – Make sure that you are downloading from a legitimate source.  If you must download free software, then save the file to the computer and scan the file with your anti-virus AND your anti-malware software before installing it.  Make sure your protection softwares are up to date.
Source: How to Spot, Avoid, and Remove Malware/Viruses on Your Computer