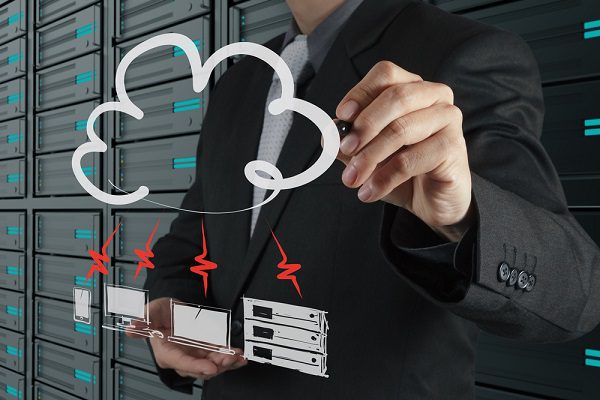 You have probably heard business professionals talk about the ease of working in the cloud and increasing their productivity, but what does that mean? Many SMBs are finding out just how effective cloud computing is. With its continued growth in popularity, cloud resources and services become more accessible, available, and secure.
3 Ways the Cloud Increases Productivity
Document storage
No more slowing down your computer with an abundance of files, waiting for a large file to be emailed from a coworker, or using VPN. With cloud services, such as RocketSync, Google Docs, Dropbox and OneDrive, it is simple to upload any type of document into the cloud for access when you and other authorized users need it. This is especially valuable for large documents and collaborated project files. With the cloud, you can better manage big data and have the tools to analyze your data. Everyone who has access gets the latest revision of a document so you no longer have to fumble around looking for a USB drive, email changes back and forth, or have multiple copies of the same document.
Multiple devices
With so many people on the go, having the ability to access files on multiple devices, including phones, tablets, Mac and PC, is incredibly productive. Mobile access is an extremely important feature in the modern business environment. You can add something to your task list while waiting for a meeting, check your e-mail from home, sync all your sent messages in one mailbox, and review that financial spreadsheet on the road. SMBs are finding out how much more productive they are now that they can access files when other devices can't connect but the mobile can. There is no more need to waste time going back to the office to access files. And when Wifi is available, being able to pull up files in the Cloud allows you to pick up where you left off no matter which device you are using. Plus, there are no more worries about the ability to open file extensions since the cloud services keeps everyone updated with the current software versions.
Simultaneous Access
Cloud services make sharing resources with multiple users an everyday practice. Many businesses are turning to software in the cloud instead of having to purchase multiple copies that can be costly. This is a fee-based service that includes updates for the technology to keep you on top of trending tools and features. Imagine all those updates being done automatically in the background. There are several collaboration tools and features in the cloud that are quick and easy for employees to use. From accounting to project management and customer relationship management (CRM), multiple cloud access has increased productivity so all your team members can use the data simultaneously. The result is a more connected workforce.
As an SMB, leveraging the most effective and economical solutions possible is important to your success. Cloud computing is one solution that can increase productivity. You can continuously access files and use apps when you are on the go. You can also share documents with your team with a click. These are just a few of the ways to increase productivity. To learn more about how our clients are using cloud services to grow, spend less on hardware, and decrease maintenance costs, contact us at 404-865-1289, complete our contact form, or read our Case Study on Dexter Companies.